Meet the Artisan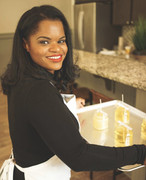 I'm LaToya, owner of Solitude Scents! I was born and raised in Wisconsin and in 2015, I relocated to a city in a new state where I did not know anyone. This gave me the opportunity to spend a lot of time alone while learning to navigate a new environment. I began making candles to express my insight into the importance of embracing solitude, thus creating Solitude Scents.
I understand that energy is transferable which is why I am adamant about being in a good mental space throughout the entire candlemaking process. I assure you that nothing but positive energy goes into Solitude Scents candles.
I wanted to use my experience as inspiration and create a brand that encourages people to prioritize their self-care and to be introspective. It is easy to lose touch with yourself and to get distracted by the busyness of life. I want to invite you to the understanding that while there is sometimes a stigma associated with being alone, you have the ability to utilize your own solitude as an opportunity for growth.
I hope that your candle burning experience is as transformative as it is for me when I hand pour them.
Are you ready to "Reconnect With You?"